Departs for WestPac
On 1SEP Commander SECOND FLEET shifted his flag from NEWPORT NEWS to the light guided missile cruiser USS SPRINGFIELD at Norfolk Naval Station.
On September 5, 1967, USS NEWPORT NEWS departed Norfolk on the first leg of an extended eight-month deployment during which the ship would be attached to the US SEVENTH FLEET off the coast of Viet Nam.
Following a five-day journey across the Caribbean, during which the ship paused off Culebra Island for a day of gunfire exercises, NEWPORT NEWS entered the Panama Canal Sunday morning September 10th. After its day-long transit of the canal, the ship docked at the Rodman Naval Station near Panama City for an evening's liberty. Next morning the ship got underway and entered the Pacific Ocean for the first time in her 19-year history.
Ten days later, on September 21th, NEWPORT NEWS cruised into beautiful Pearl Harbor, Hawaii, location of the major US Naval Base in the Pacific. Crewmembers enjoyed four days of sunny liberty in the nation's 50th state before getting underway again on September 25th.
The heavy cruiser's next stop was the island of Guam on October 2nd. Enroute to the Pacific island, on September 27th, the ship crossed the International Date Line. At Guam the ship refueled and crewmembers went ashore for a few hours' liberty before heading back to sea.
On October 5th the ship docked at Subic Bay in the Philippines for a two-day stay. Although many crewmembers enjoyed liberty, the primary purpose of the visit was to make final preparations for the forthcoming hop across the South China Sea to Viet Namese waters -- and combat.
Late on October 7th the heavy cruiser pulled out of Subic Bay, and on Monday morning October 9th NEWPORT NEWS rendezvoused with her fellow cruiser, USS ST. PAUL in the outer harbor of Danang, South Viet Nam. That day, Rear Admiral Walter V. Combs, Commander of the SEVENTH FLEET Cruiser Destroyer Group and Commander Cruiser Destroyer Flotilla Three, and his staff embarked NEWPORT NEWS from ST. PAUL via a major highlining operation. In her new flagship role, NEWPORT NEWS then headed north to take her station off the North Vietnamese coastline.
At 2300 hours on October 9th, 1967, NEWPORT NEWS levelled her big guns inland and fired "in anger" for the first time in her service. The ship was firing as a participant in OPERATION SEA DRAGON the SEVENTH FLEET's effort to stem the southerly flow of Communist war goods north of the Demilitarized Zone. During her tour on Sea Dragon, the flagship carried out several strikes a day against North Viet Nam military transportation targets. These included railroad and highways bridges, ferry crossings and transportation "choke" points. In addition, NEWPORT NEWS fired upon radar installations and coastal defense sites.

Besides her Sea Dragon duties while deployed off North Viet Nam, the heavy cruiser also participated in lending Naval gunfire support to Allied troops operating ashore south of the Demilitarized Zone (DMZ).

NEWPORT NEWS's first period on the gunline lasted 20 days, and on October 30, the ship dropped anchor in Hong Kong harbor for five days of well-deserved rest and relaxation for the crew. The exotic Oriental port offered many new and intriguing sights to NEWPORT NEWSmen, and many crewmembers took advantage of the low prices on international goods in the duty-free port to purchase Christmas gifts for families and friends back home.
Leaving Hong Kong on the morning of November 4, the flagship returned to the war zone for a week's participation in Naval gunfire support before departing the Gulf of Tonkin for Yokosuka, Japan.

Docking at the major Naval Repair Facility on 13NOV, the ship spent six days in the port, taking care of needed repairs in her weapons and engineering systems. While in the Japanese port most NEWPORT NEWSmen enjoyed several evenings' liberty ashore, and a number of the crew took the opportunity to visit Tokyo, the world's largest city, which lay an hour-and-a-half's train ride from Yokosuka.

The stay in Japan also witnessed a change in Flag aboard NEWPORT NEWS. Rear Admiral Sheldon H. Kinney, Commander Cruiser Destroyer Flotilla Eleven, and his staff relieved Admiral Combs and the Flot Three staff. In the move ADM Kinney took over command of the SEVENTH FLEET Cruiser Destroyer Force and Operation Sea Dragon.
On 19NOV NEWPORT NEWS departed Yokosuka to return to the Task Group (TG). This second operational period on the gunline lasted 38 days as the cruiser fired her eight-inch and five-inch guns at a variety of targets from the DMZ north to OSD.


During this period the crew celebrated both Thanksgiving and Christmas at sea in the TG. Religious services were held both days and "holiday routine" and a delicious evening meal with all the trimmings highlighted the holidays for the officers and crew.

NEWPORT NEWSmen welcomed in the New Year in Sasebo, Japan as the ship pulled into Japan's westernmost city on December 27th for an eight-day stay of rest and relaxation. Early liberty was observed here for crewmembers and most everyone took advantage of the recreational and shopping facilities available.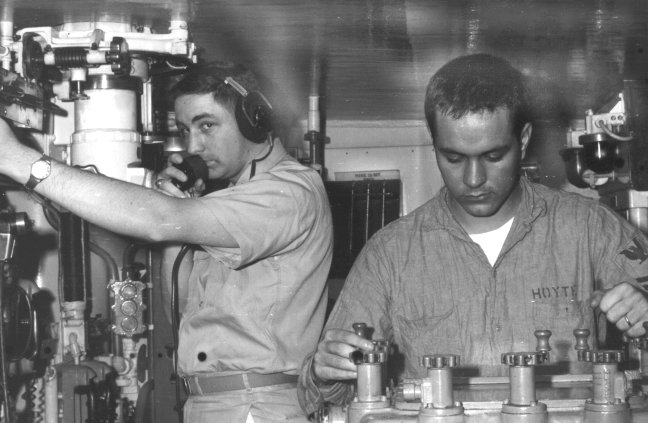 Turret I Officer Lt. Larry Delong and 2nd Class Hoyte
Photo most likely by Harry Doyle. Supplied by Larry Delong

1968

The ship sailed out of Sasebo the morning of January 4, 1968 heading for the now familiar stretches of the TG and OSD. For nearly three weeks NEWPORT NEWS was called upon several times daily for strike missions against key targets inland and also to stop the southerly flow of waterborne logistic craft.
OPERATION ACTIVITIES
USS NEWPORT NEWS
10 - 23 JANUARY, 1968
The mission of SEA DRAGON operations is the harassment and interdiction of logistic movement by the Viet Cong and North Vietnamese along the southern coast of North Viet Nam. Specific objectives include water-borne logistic craft (WBLC), trucks, trains, supply dumps, trans-shipment points, and other related targets.
On 10 January 1968 NEWPORT NEWS returned to the Gulf of Tonkin to resume operations after a port visit to Sasebo, Japan. NEWPORT NEWS assigned as a unit of Task Unit 77.1.1 is Rear Admiral Sheldon H. Kinney, USN embarked in NEWPORT NEWS. HMAS PERTH joined USS NEWPORT NEWS on that day.
During this period NEWPORT NEWS struck many varied targets in and along the coast of North Viet Nam. The ship was not taken under hostile fire during any of the strikes conducted. On 20 January the USS BLUE (DD-744) relieved the PERTH.
Confirmed damage inflicted on enemy during this period was as followed:
15JAN Aircraft from USS KEARSARGE (CVS-33) reported 22 WBLCs in the area of WG670007 and WG 680050. Six to eight large, remaining reported as sampan size. At 0047(H) NEWPORT NEWS took targets under fire from a range of 21000 yards. Aircraft remained in the area during firing, giving position of WBLCs. Aircraft was unable to assess damage due to darkness, however two large WBLCs that were fired on disappeared from radar screens and were presumed sunk. Four direct hits were observed on one WBLC with two direct hits on another. Other WBLCs beached, possibly damaged, shot was observed on radar to fall well within the area.
JAB At 1100(H) aircraft from USS KEARSARGE discovered 13 30-35 foot WBLC egressing from a river mouth on the south end of Cape Falaise. After advising NEWPORT NEWS, who was 20 miles away, the aircraft fired BULLPUPs at two of the targets, damaging one and totally destroying the other. At 1155 NEWPORT NEWS and HMAS PERTH arrived on the scene and commenced firing. A pilot advised that when firing ceased at 1251(H), nine to the thirteen WBLCs had been positively destroyed, two had beached in flames and two had escaped up a river just south of the cape. The nature of the fire in the WBLCs indicated POL cargo.
17JAN At 1115(H) Trombone 35 reported one large flatbottom WBLC 65-70 feet long at WF843685. Beefsteak 15 arrived and attacked with BULLPUP missiles at 1145(H) resulting in one near miss. At 1150(H), Beefsteak 15 observed crew on deck shifting cargo, it was believed the crew had been transferring cargo to the beach. NEWPORT NEWS and PERTH closed the area and conducted suppression fire on suspected Coastal Defense (CD) sites, NEWPORT NEWS commenced fire on the WBLC at 1245 from a range of 23000 yards, ceased fire at 1315. Most rounds bracketed close to target. Beefsteak 13 arrived on the scene and fired BULLPUP missiles at the WBLC, scoring one near miss. Result - one WBLC dead in the water, heavily damaged, drifting to beach, believed sinking, crew appeared to have abandoned the vessel. At 1350 Beefsteak 13 reported six barges 65 -70 feet in length at WF656000 on either side of the mouth of the SON BANG River. NEWPORT NEWS with PERTH closed target and conducted suppression fire on occupied CD sites. NEWPORT NEWS with Beefsteak 13 spotting, commenced fire on WBLCs at 1445, range 21600 yards. Ceased fire at 1530, range 25700 yards. The pilot reported one barge destroyed, three damaged. Departed area when necessary for aircraft to depart station.
18JAN In the early evening radar contact was gained on one WBLC at position XE199235. One projectile was fired using MTF. The projectile was observed on the radar screen to explode directly over the target. Target disappeared from the screen - presumed destroyed.
While conducting SEA DRAGON Operations many land targets were taken under fire as unobserved harassment and interdiction and no assessment of damage can be made. During the night of 22JAN NEWPORT NEWS departed the Gulf of Tonkin enroute to DMZ and Naval Gunfire Support Operations.
NAVAL GUNFIRE SUPPORT
23JAN - 18APR
During this period NEWPORT NEWS provided Gunfire Support in the vicinity of the DMZ to support operations in I Corps Tactical Zone. Support was provided to the THIRD Marine Division, FIRST Marine Regiment, FIRST Army Cavalry Division, FIRST Army, Republic of Viet Nam. Operations participated in included Amphibious Operation BADGER CATCH and Operation HUE.

During a 10 hour period on 17-18MAR NEWPORT NEWS expended a total of 1777 rounds on enemy targets. On 2 April NEWPORT NEWS fired her 50,000th round while conduction operation in Viet Nam since 9OCT67.
USS NEWPORT NEWS is credited by air and ground spotter with the following destruction/damage:
1 gas and fuel depot destroyed - large fires and secondary explosions.
1 Ammunition dump destroyed.
17 VC KIA
30 VC probable KIA
6 wounded in action.
4 surrendered to friendly forces as a result of ship's fire.
23 secondary explosions in target areas.
9 fires started in target areas.
15 artillery sites silenced.
4 recoilless rifles silence.
165 meters of trench damaged
1000 meters of infiltration route damaged.
101 structures destroyed.
68 structures damaged.
30 bunkers destroyed.
10 bunkers damaged.
1 village half destroyed
300 meters of village totally destroyed.
1 fortified village and bunkers damaged.
1 supply depot destroyed.
Of specific note is the extreme accuracy of NEWPORT NEWS's main and secondary batteries. During this time NEWPORT NEWS was called to fire within 600 meters of friendly troops on 6 different occasions and on one occasion the spotter called fire within 100 yards of friendly troops. While conducting NGS NEWPORT NEWS was subjected to hostile fire from CAP LAY on 4 different occasions. No material or personnel casualties resulted from this hostile fire. Although the ship was bracketed several times, it never received a direct hit.
In early February 1968, Captain Edwin K. Snyder relieved Captain L.C. McCarty as Commanding Officer of NEWPORT NEWS in short ceremonies near the DMZ.

On 17FEB, the NEWPORT NEWS arrived in Subic Bay to perform an unprecedented first in her long and distinguished career. The lining of her eight-inch guns were taken out and replaced in a complete "one-step service". Departing Subic Bay after her minor overhaul, the heavy cruiser returned to her role as gunship in hostile waters.

From that point, until April, the "Gray Ghost from the East Coast" fired almost 44,700-rounds of the over 59,000 total against enemy targets and in support of friendly forces ashore.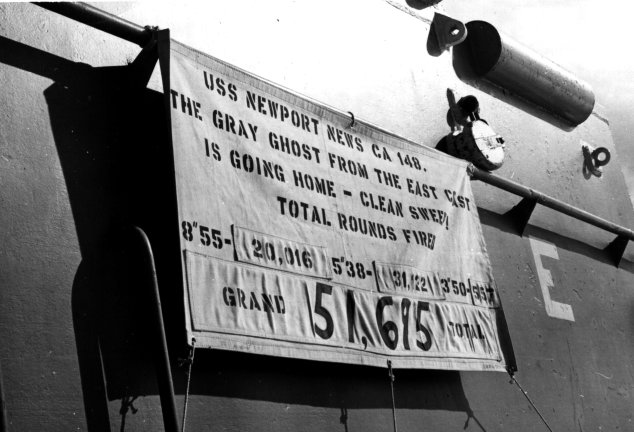 Departing the DMZ 18APR completed her tour of duty with the SEVENTH FLEET. Over 226 days had passed since the cruiser and her crew had left Norfolk and families.
NEWPORT NEWS returned home May 13th, to the familiar waters of the Atlantic and to Pier 5 at NOB where families and friends had gathered to welcome the ship and her crew safely home.
After a period of rest and relaxation for the crew, NEWPORT NEWS moved back into her old role as a training ship for future officers when she took part in Operation LANTFLEX 68. Midshipmen from the Naval Academy and Universities across the nation were trained by the combat veteran crew in the tactics of modern sea warfare and the daily life stresses at sea.
On a four day port call to New York City the officers and men of NEWPORT NEWS learned that the Secretary of the Navy had awarded the ship the Navy Unit Commendation. In ceremonies that July 4th weekend, Rear Admiral John Wadleigh COMCRUDESFLOT-FOUR presented Captain Snyder with the citation which read:
"For exceptionally meritorious service from 2OCT67 to 26APR68 while engaged in operations against enemy aggressor forces in the waters contiguous to the hostile coastline of both North and South Viet Nam. Although heavily engaged on seventeen separate occasions by enemy coastal defense shore batteries, the officers and men of NEWPORT NEWS executed their assigned missions with professionalism and intrepidity, demonstrating singularly outstanding resourcefulness and tenacity. During the conduct of nearly 1,000 strikes against enemy logistics craft, artillery positions and troop movements, NEWPORT NEWS fired over 59,000 rounds consistently surpassing all previous records in every area of Naval Gunfire Support and Sea Dragon Operations. The superior technical acumen, battle efficiency, and spirit of cooperation displayed by the officers and men of NEWPORT NEWS reflect great credit upon themselves and the United States Naval Service."
The awarding of the Naval Unit Citation topped off a weekend of surprises for the officers and men of NEWPORT NEWS. It all started when a native of Norfolk and a friend of the crew came to greet the ship as she arrived. Singer, actress Miss Pearl Baily delighted the crew when she spoke of how happy she and the city of New York were to see the ship visit. With Miss Baily was Cathy French, New York Summer Festival Queen, who accompanied Pearl on a tour of the ship and took part in a press conference held in the wardroom.
August marked the beginning of an extensive yard overhaul period for NEWPORT NEWS as she made ready for her future return to Vietnamese waters. She spent until November in Norfolk Naval Shipyard in a Restricted Availability preparing to resume her role as a fighting gunship.
On 21NOV the NEWPORT NEWS left Norfolk for her month-long trip to the waters off South Viet Nam. Traversing the Panama Canal and stopping briefly in Hawaii, Guam and the Philippine Islands, the East Coast gunship reassumed her role as a Gunfire Support Ship firing her first mission on Christmas Day, 1968 in the IV Corps Tactical Zone (CTZ).
On 31DEC, Rear Admiral David H. Bagley, Commander Cruiser-Destroyer Group SEVENTH FLEET, broke his flag and NEWPORT NEWS carried on the tradition of combination combat flagship and gunship.