1967
On January 23, 1967, Vice Admiral Bernard A. Clarey, Commander SECOND FLEET departed with NEWPORT NEWS and commenced a 25-day period of operations and official port visits in the Caribbean.
Nassau, capital of the Bahamas and a beautiful resort city, was the flagship's first port-of-call. Arriving on 27JAN many prominent political and business guests were hosted by SECOND FLEET and Captain McCarty. Attending the "Forecastle Frolic" were the Governor of the Bahamas, Sir Ralph Grey, and Lady Grey; Premier and Mrs. Lynden O. Pindling; former Premier Sir and Lady Roland Symonette; and American Consul-General Mr. and Mrs. Turner B. Shelton. During the Nassau visit ADM Clarey attended a reception in his honor given by Mr. and Mrs. Shelton.
Leaving the Bahamas on the morning of 31JAN, the flagship spent the next week continuing maneuvers in the Caribbean, culminating in FIREX 67, a gun support exercise conducted from February 4-6, during which the flagship's powerful eight-inch and five-inch guns blasted the target ranges on Vieques and Culebra Islands.
On the afternoon of 6FEB, Commander SECOND FLEET arrived in St. Thomas for a brief period of rest and relaxation. Many crewmembers had an opportunity to go ashore and enjoy swimming and other activities on the beautiful island. Following this, on the 11th of February, NEWPORT NEWS arrived in the colorful city of San Juan. A highlight of the visit to the historic city was a reception aboard the flagship given by ADM Clarey. After a three-day stay NEWPORT NEWS headed north arriving in Norfolk on the morning of February 17th. The ship then commenced a period of upkeep and maintenance.
On March 6, NEWPORT NEWS left Norfolk and headed north for New York City. Arriving on March 10, the flagship commenced a three-day weekend visit.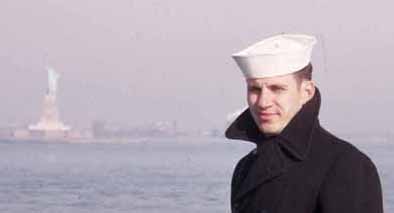 Statue of Liberty and NEWPORT NEWS sailor Ray Woodall
The next three weeks were spent alongside Pier 7 at NOB. On April 8, NEWPORT NEWS participated in CLOVE HITCH II, a joint amphibious and airborne training exercise of the Atlantic Command, commenced in the western Atlantic and Caribbean operating areas. The exercise, under the direction of Admiral Thomas H. Moorer, Commander in Chief Atlantic, from his headquarters in Norfolk, tested tactical concepts in joint operations in eastern Puerto Rico and the neighboring islands of Vieques and Culebra. Over 70 ships of the SECOND FLEET and more than 21,000 men representing the Navy, Army, Air Force and Marine Corp took part in this exercise.
NEWPORT NEWS dropped anchor off St. Thomas on April 26th and crew members enjoyed two days of liberty ashore. Leaving St. Thomas on the morning of April 28th, the flagship arrived home May first.
A change of command ceremony held aboard NEWPORT NEWS on May 19th saw Vice Admiral K. Duncan relieve Vice Admiral Clarey as Commander SECOND FLEET and Commander Striking Fleet Atlantic. The Following day NEWPORT NEWS with SECOND FLEET embarked aboard, left for Newport, RI. The Newport visit was in conjunction with the 19th annual Global Strategy Discussions held at the Naval War College, in which ADM Duncan was a participant. Following a six-day stay in Newport, the flagship returned to Norfolk on May 28th.
On 8JUN the at-sea phase of the 1967 Atlantic Fleet Midshipmen Training Program commenced with more than 1000 US Naval Academy and Naval Reserve Officers Training Corps midshipmen from various colleges and universities participating. The midshipmen embarked in 20 SECOND FLEET ships, and training was provided for first classmen (seniors) and third classmen (sophomores).
12JUN saw NEWPORT NEWS depart for nine days of underway operations. On June 21, with Second Fleet embarked, the ship moored in the harbor of Halifax, Nova Scotia, in conjunction with the 1967 Canadian Centennial Naval Assembly Atlantic. Departing Halifax on 27JUN, NEWPORT NEWS resumed maneuvers in the western Atlantic. On July 1, NEWPORT NEWS arrived in San Juan for a four day visit over the Fourth on July weekend. During the stay officers and crewmembers participated in San Juan's annual Independence Day Parade. NEWPORT NEWS departed for NOB on the 5th and arrived three days later.
After two weeks of upkeep and maintenance, the ship got underway on July 23 to participate in LASH OUT, a NATO Fleet exercise conducted in the western Atlantic. LASH OUT was directed by Commander SECOND FLEET in his role as Commander Striking Fleet Atlantic. NEWPORT NEWS returned to Norfolk on August 4th, for extensive maintenance and upkeep for a coming major deployment.