1966
The ship arrived at Norfolk on 9JAN66 to assist the return of Admiral Masterson and the SECOND FLEET to the NEWPORT NEWS.
On 31JAN the SECOND FLEET Flagship departed for the Caribbean for Exercise High Time, a major Atlantic Fleet exercise involving 34 ships and 10,000 men. NEWPORT NEWS's primary role was shore bombardment, and the 8-inch and 5-inch guns received a real workout when she fired into the training areas on the islands of Culebra and Vieques, both day and night. Ports of call were San Juan, St. Thomas, and Bermuda. She returned home on 22FEB.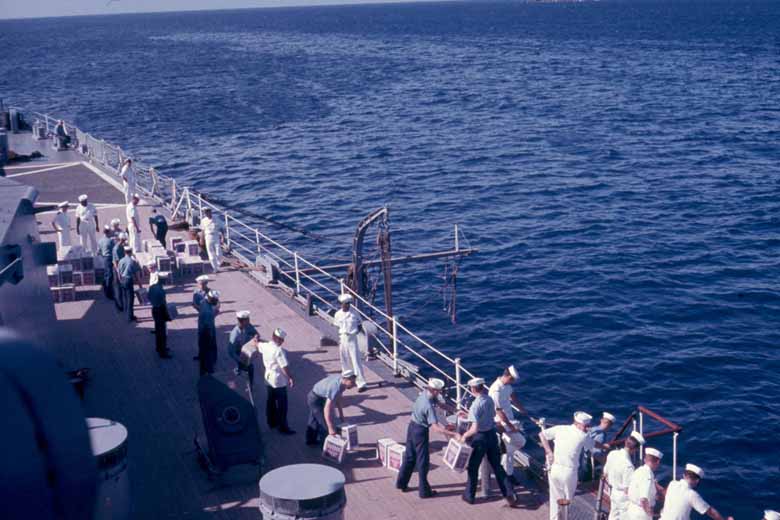 Loading of Liquor off St. Thomas was probably the only work detail for which nearly All Hands Volunteered
- Thanks Ray Woodall (66-670 for sharing photo
On March 26, NEWPORT NEWS, as flagship for Commander Joint Task Force 122, VADM Masterson, began participation in EXERCISE CLOVE HITCH I, a major joint field training exercise in US coastal waters off Camp Lejeune - Onslow Beach area of North Carolina. In addition to NEWPORT NEWS and other SECOND FLEET ships, units from the Atlantic Fleet Amphibious Force, the 19th Air force, the Continental Air Command, the 101st Airborne Division, the 2nd Marine Division and the 7th Special Forces Group(Green Berets), participated.
The main objective of CLOVE HITCH I was to increase proficiency in joint amphibious and airborne operations and to perfect coordination and communications between participating forces. CLOVE HITCH I ended on March 31st and NEWPORT NEWS returned to Norfolk April 1.
After concluding a 17-day in port stint, NEWPORT NEWS got underway April 18 and commenced training in the Virginia Capes prior to goodwill visits to West Palm Beach, FL, April 22-24, and Port Everglades (Fort Lauderdale/Hollywood) April 28-May 2.
At West Palm Beach, Commander Henry F. Munnikhuysen relieved James H. Doyle as executive officer of NEWPORT NEWS. CDR Munnikhuysen reported for duty from the USS MITSHER (DL-2) where he served as her commanding officer. CDR Doyle was transferred to assume command of the USS BAINBRIDGE (DLG(N)-25) which transferred from the Atlantic to the Pacific in late October. The SECOND FLEET Flagship returned to Norfolk from her Florida visit on May 6.
On June 1, NEWPORT NEWS departed Norfolk for Newport, RI, where Vice Admiral Masterson and senior SECOND FLEET staff officers attended the Global Strategy Conference at the Naval War College, June 6-10. The flagship left Newport on the morning of the 10th and headed for New York City, where she arrived 4 hours late, due to a heavy fog. The ship was scheduled to visit in the nation's largest city over the week-end June10-13, but because of an unexpected early hurricane named Alma, NEWPORT NEWS remained an additional day, leaving on the morning of May 14th. NEWPORT NEWS arrived in her Norfolk homeport in the early evening, June 16th.
On 8JUL the ship departed for a weekend visit to Annapolis, Maryland. While there the entire class of Plebes, numbering over 1000, visited the flagship. Immediately after returning to Norfolk on 12JUL, the families and friends of NEWPORT NEWSmen came aboard for the annual Dependents' Cruise
On 6 August, the ship departed on a six-week cruise to Northern Europe, to participate in "Straight-Laced" -- a NATO Striking Fleet exercise. Under the direction of VADM Masterson, "Straight Laced" involved 31 ships and over 15,000 men. The participating NATO countries were France, the Netherlands, Norway, the United Kingdom, and the United States.
The exercise was designed to sharpen the Striking Fleet's coordination with NATO's northern European Command, and to test the readiness of the fleet in a series of realistic air, surface and sub-surface maneuvers. This included air strikes and air defense, cross-servicing (underway replenishment and refueling), and cross deck landing operations between British and American carrier-based aircraft.
Following "Straight Laced", NEWPORT NEWS paid good-will visits to four European ports. Oslo was first on the list, and on 22AUG, while in the Norwegian capital, VADM Bernard A. Clarey relieved VADM Masterson as Commander of the SECOND FLEET and Striking Fleet Atlantic.
The ship left Oslo on 24AUG and proceeded to Copenhagen where it remained for four days. Departing on 29AUG, NEWPORT NEWS transitted overnight, via the Kiel Canal and the Elbe River, to Hamburg. After a four day stay there, during which time 14,000 Germans visited the flagship, it again took to sea, this time heading for the English port of Portsmouth, arriving there on 5SEP, and docking at the historic Portsmouth dockyards. Many crewmembers had the opportunity to visit London via chartered buses during the three-day stay.
On 9SEP, the ship got underway for a seven-day crossing of the Atlantic, arriving in her homeport on 16SEP. NEWPORT NEWS stayed in port for three weeks.
A 15-day routine training cruise began on October 10. The two ports of call were Fort Lauderdale and Bermuda. NEWPORT NEWS stayed in Fort Lauderdale three days from 13OCT to 17OCT. The ship pulled into Bermuda on 21OCT and three days later got underway for NOB. During the underway periods of the cruise the ship carried out various damage control exercises and gunfire support activities.
On 26OCT, Captain Lindsay C. McCarty relieved Captain Theodore L. Balis as commanding office of NEWPORT NEWS. VADM Clarey, Commander SECOND FLEET, was the principal speaker at the Change-of-Command ceremony held aboard the flagship at Pier 7 of the Norfolk Naval Station.
LANTFLEX-66, A major Atlantic Fleet exercise, was the next significant activity for NEWPORT NEWS. Departing Norfolk on 28NOV, the flagship teamed up with over 90 other Naval vessels, 19 Naval air squadrons and a 5,000 man Marine contingent, to implement a series of modern fleet maneuvers. The highlight of the exercise was a simulated combined land, sea, and air assault on Vieques Island in the Caribbean.
During the course of LANTFLEX-66, NEWPORT NEWS visited two ports --San Juan (3-5DEC) and St. Thomas (9-10DEC). Following LANTFLEX-66, the flagship returned to Norfolk on 16DEC and commenced a holiday leave period.
NEWPORT NEWS, with Commander SECOND FLEET embarked, remained in Norfolk until January 22 for upkeep, maintenance and well-earned leave for the crew.
| | | |
| --- | --- | --- |
| | Keep on Cruising >>> 1967 | |