1961
The ship participated in six months of Atlantic and Caribbean operation. In February she visited Trinidad, British West Indies; Martinique, French West Indies; and San Juan, PR while participating in "Operation Springboard." Then, after seven weeks of interim availability at the Norfolk Naval Shipyard, NEWPORT NEWS steamed to New York City on 18MAY to take part in Armed Forces Week activities. She hosted a total of 11,500 visitors during this period.
On 28JUN NEWPORT NEWS was underway for Newport, RI, where she spent the Fourth of July weekend hosting the local populace.
In a ceremony conducted while flagship was at Norfolk on 17JUL, Captain T.K. Kimmel relieved Captain Bennett of command.
NEWPORT NEWS departed Norfolk for the Mediterranean and her eleventh cruise with the Sixth Fleet on 3 August. While deployed there she visited the countries of Italy, Turkey, Greece, France and Spain.
Rear Admiral C.B. Brooks, Jr., relieved Rear Admiral Sieglaff as COMCRUDIVTWO in ceremonies while the NEWPORT NEWS was in Barcelona on 7DEC.
NEWPORT NEWS returned to Norfolk 18DEC and commenced a regular shipyard overhaul on 20DEC for a new role -- the flagship for Commander SECOND FLEET.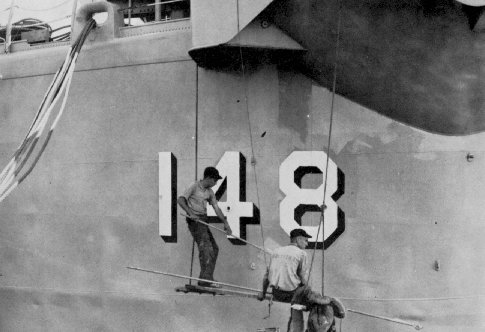 Side Cleaners painting on port side near stern
Photo from Cruisebook - Al Uhl
A Letter from Captain Kimmel to the crew and family
USS Newport News CA-148

C/O Fleet Post Office
New York, New York
Dear Folks,
Our ship left Norfolk Virginia, August 3rd 1961 for an extended tour of duty in the Mediterranean Sea. Although we were a little sad to leave our families and friends, the realization that the USS NEWPORT NEWS was on her way to do a vital job was understood by all hands and it helped soften the hurt of leaving home.
After leaving Norfolk, the ships in the convoy joined up. Carriers, destroyers, supply ships, submarines and others that could and did make up a force of considerable size. While en route to relieve the many ships, which were in the Sixth Fleet, we engaged in drills and exercises to put a still finer edge on a fighting ship. You will understand the pride in our ship. We of the NEWPORT NEWS consider our ship the best in the United States Navy.
We arrived in the Mediterranean on 16 August to relieve the USS LITTLR ROCK to relieve her Sixth Fleet duties.
We had pride and we knew that we had to keep our high standard above all other ships. That's exactly what we did. We set rigging records while refueling, donated more money to the United Fund Drive then any other ship in CRULANT and we received and honorable certificate from the Greek Red Cross for blood donations. This means one thing, that the man of the NEWPORT NEWS are capable of meeting any challenge assigned to them.
Now let's take a look at a few ports and the scenery we saw: There was Naples, Italy, where many sailors visited Capri, and Pompeii. Many went to Rome and those who had the ambition climbed 450 steps to the top of St. Peter's dome. In Livorno, Italy, the world-famous leaning Tower of Piza captured the eye of many sailors. Many of the men took leave to visit relatives whom they had never seen. Some toured the French Alps where many famous skiers have their headquarters. The ruins in Athens, Greece also captured our fancy and many other sites such as the monuments and historical markings. Yes the memories will remain. They will always be remembered by everyone. The Smoker held on the fantail, "So You Want To Lead A Band" contest, largest barbecue afloat, the monuments, the Mediterranean storm which caused a considerable amount of damage and the most important part of a sailor's life, our church services at sea.
The Sixth Fleet is our Main line of Defense in the Mediterranean area. It serves many functions, among them; promote goodwill, via the President's people to people program, a first-line of defense and a ready striking force.
The mission of the NEWPORT NEWS can be stated simply: to engage the enemies of the United States on land, sea and air. But she also has a vital peacetime mission: to act as a roving ambassador of goodwill to the people of the world.
(This letter was provided by Jim Sollee crew member 1960 - 64, 1st Division. Thank you, Jim)